Original Chai
available for orders over AUD $60.00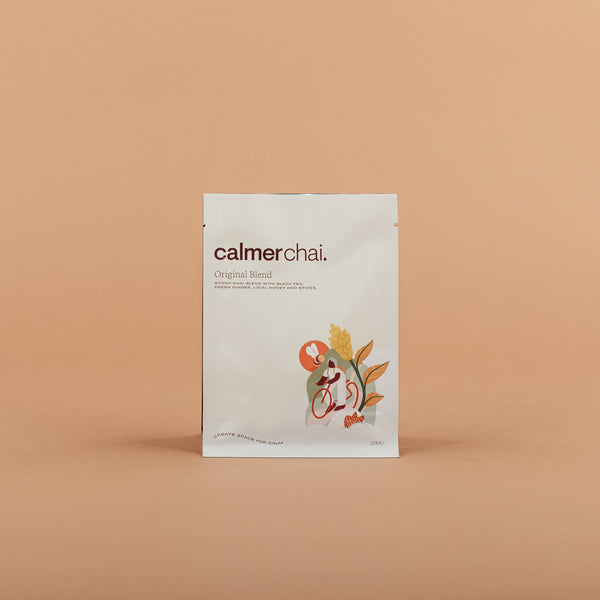 Original Chai
available for orders over AUD $60.00
Description

Ingredients

Storage Instructions
Our original blend, was lovingly created over 20 years ago and remains the flagship of our fresh chai blends. Aromatic and full of spice, this sticky chai is like no other.  Containing black tea, zingy fresh ginger root, local Victorian honey and freshly ground spices, it is the perfect morning cuppa to enjoy every day of the week….ok, YEAR.

All of our fresh chai blends are handcrafted in Melbourne using premium ingredients. We lovingly make our fresh chai in small batches to maintain its elegance, maximum potency and to ensure the freshest chai possible.

*GOLD medal winner at The Golden Leaf Awards 2021*

Available in 100g, 200g, 500g and 1kg pouches.

Looking for some Calmer Chai inspired recipes?  Check out our Coconut Chai Iced Coffee for that perfectly chilled beverage, or jump to the other spectrum with our Chai Mulled Wine.

Need a beautiful vessel to hold your chai and warm your heart?  Look no further than one of our unique, handmade  "State of Permanence" ceramic cups, exclusively created for Calmer Sutra Tea.

Black Tea Leaves, Indian Spices, Fresh Ginger Root & Local Victorian Honey


Keep your chai fresh by storing in the fridge (6 months) or freezer (8 months). The best before date is for refrigerated temperatures. This product will not spoil for several weeks at room temperature, however we strongly recommend storing in the fridge as soon as possible.