Golden Chai (Clearance)
available for orders over AUD $60.00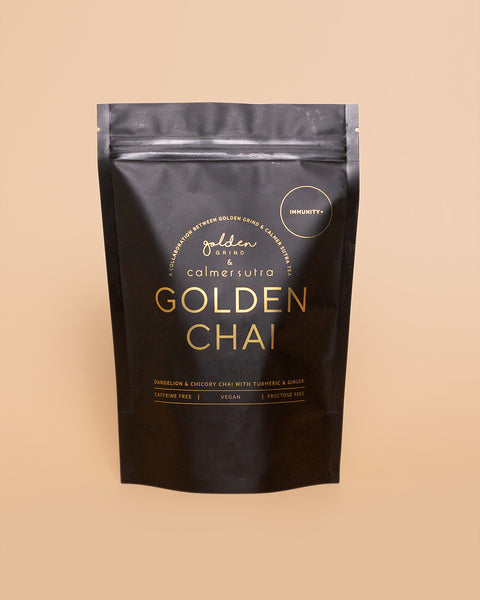 Golden Chai (Clearance)
available for orders over AUD $60.00
Description

Ingredients

Storage Instructions

Let your insides shine!  Our Golden Chai is the spirited lovechild of Calmer Sutra Tea & Golden Grind. With Turmeric playing the lead role in this nurturing brew, get ready to experience the ultimate wellness boost! Pronounced earthy flavours, bold spices and a hint of sweetness, this immunity-boosting chai is sure to keep you glowing all day long. 

All of our fresh chai blends are handcrafted in Melbourne using premium preservative-free ingredients. We lovingly make our chai in small batches to maintain freshness, maximum potency and to ensure the freshest chai possible.

Suitable for Vegans. Fructose Free. Caffeine Free.

Each pouch is 300g.

Organic Rice Malt Syrup, Organic Dried Ginger, Dandelion Root, Chicory root, Organic Turmeric, Cinnamon, Cardamom, Star Anise, Nutmeg, Fennel, Cloves & Black pepper 

This product is shelf-stable for up to 8 months however can be stored in the fridge or freezer to lock in the flavours.