Calmer KeepCup
available for orders over AUD $60.00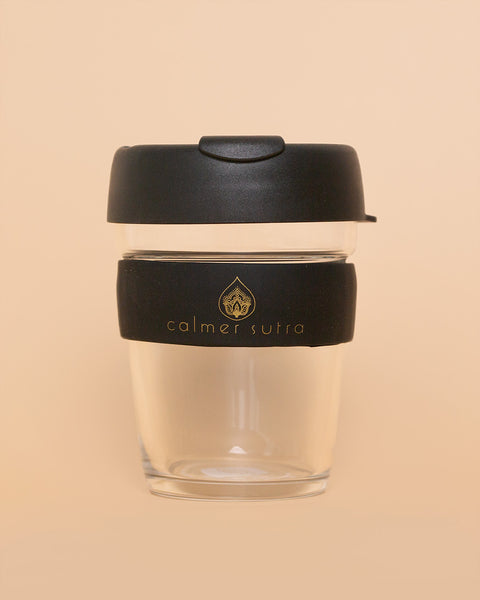 Calmer KeepCup
available for orders over AUD $60.00
Calmer Sutra KeepCups are here!  Save the planet one sip at a time with these stylish, reusable glass keep cups. 
*12oz durable tempered glass cup to hold more of your daily dose!
*Black silicone band with "Calmer Sutra" logo (thermal, non-slip).
*Black polypropylene lid and plug (BPS and BPA free).
Small changes make a HUGE impact, so it is time to say NO to single-use cups and be the change you want to see in the world.
CLEANING & CARE:
- Designed to be taken apart for easy clean
- Glass and plastic components are dishwasher safe on the top rack. Place small components in the cutlery tray or basket to avoid loss or damage.
- Microwavable with the lid off to 100°C / 212°F
-Caution: Rapid temperature change or heating over 100 °C / 212 °F may cause the glass cup to shatter. Do not heat liquids in the microwave above boiling point, or place a cold cup in boiling water, or place a hot cup in cold water.
- Reassemble the lid after cleaning. Store with lid off.